It occurred to me…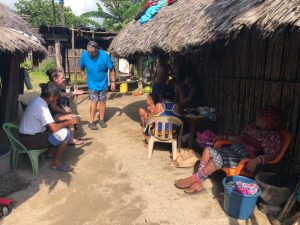 Last Monday, I was on Ogobsucun Island, visiting a Kuna family in their compound, a combination of bamboo huts. They speak Spanish as well as Kuna, so I was speaking with Anna Esquivel's help. Grandma, mom and two daughters had just prayed to receive Christ. I was giving them a Kuna language New Testament, a gift that many Kuna families have not yet received.
I asked whether anyone could read Kuna. One of the daughters smiled. We all noticed and asked her to read something for us. She began to read the Bible to her family. After a few moments, I spoke up. "She can read very well. I hope that she will read to you all every day." It just occurred to me. I hadn't said that before. But it seemed obvious. The new Word of the Lord had been bestowed upon that home. They all needed to learn to love the Word of God. What could be better than a time of reading it everyday?
Kuna ladies do very fine needlework. They craft beautiful squares of intricate designs (sorta like quilters used to do). I suggested that while all the ladies were gathered around using their needles and stringing beads, that they should have that daughter read the Gospel of John to them.
Then it occurred to me….
I haven't really ever asked any American families to do that. I've asked new believers to read the Gospel of John for themselves, as individuals. But, what about urging whole families to read the Bible together? What difference would it make to a family to sit down together and read 2-3 chapters together out loud? Everyone who can read should take part. Pass the Bible around the circle. Everybody read 7 verses. Let children grow up remembering how their daddy's voice sounds when he reads the Bible.
The simple things are usually the best. Christian families! Read the Bible together! How simple. But how powerful!