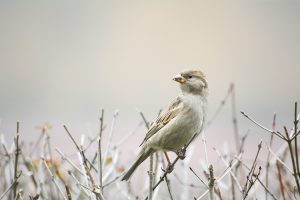 After Sunday morning's service, I was thinking about everyone reading the Prayer Guide for 30 days. Be assured of this. Satan does not want our church to get involved in anything that will lead more people to Jesus!
So I'm assuming there will be all kinds of distractions, busy work, sick children, emergency phone calls, re-arranged work schedules, etc. Anything to keep us from praying for 30 days about witnessing to one beautiful soul.
It reminds me of the bird's work in Jesus' Parable of the Sower. The Sower sowed the seed, which was the Good News, and the seed fell on hard soil, rocky soil, weedy ground and good turf. Then there were the birds. They flew in and plucked up and gobbled down the seed. So, it was as if there had never been any Gospel sharing at all.
Don't let anything snatch "Who's Your One?" away from you. God wants to use you in a new way. He wants to bless you. He wants you to have sweaty palms and a tongue-tied moment of truth. He wants us all to learn that His Holy Spirit can work through us.
Be diligent to pray through that prayer guide! Don't let anything stop you!
God bless you,
Bro Jonathan