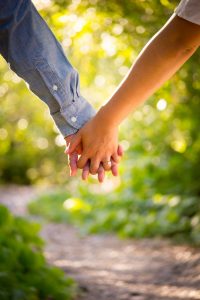 I was eating lunch in the airport the other day when I became aware of the husband and wife who had just sat down at the next table. They had gotten Whataburgers. When the order was ready the wife went to retrieve it. I'm not a professional eavesdropper, but it wasn't like they were trying to be quiet. We were all in one big food court! So don't judge me for listening in.
As they unsacked their burgers, there was a great discussion about which was which. "Is this yours or mine?" They unwrapped them to see. He immediately said, "Well this isn't mine. It's got onions and mayonnaise." So, they swapped burgers. Again, "Well, this one doesn't have the sauce on it."
I was confused. I eat Whataburgers with mustard, like all good Texans. I'm not sure what "sauce" he was talking about. Let's keep listening.
He continued to fuss, opening up the burger and pointing out all its deficiencies. He was blaming her for making a bad order. "Did you tell them I wanted the sauce on it?"
Maybe he was talking about honey-mustard or bbq sauce, I thought. What other sauces does Whataburger have? My mind was trying to solve the sauce question.
Checking back in, hubby was now telling the wife that he needed more ice in his drink. She took the cup and went back for more ice for her sweety-pie. When she got back, he said something like, "You didn't get us any napkins." Back she went for napkins.
I had decided that I would have punched him in the nose. Said something like, "You don't like the way this meal is turning out, fix your own!" I mean, he just would not be happy. Eating his burger, he was still complaining. "You always mess up my order." She wasn't grinning and trying to placate him. She was getting kinda grim. I thought about changing tables.
Husbands and wives fall into patterns. These patterns can be helpful or hurtful. A long time ago, I established a pattern. When we are eating out, it's my job to go get the drinks, the utensils, the napkins and to get something fixed if it's wrong. Because that's been my pattern, I was shocked by Mr Whiny Pants. "How can he treat his wife that way?" I'm wondering. I'll just bet it's the pattern they've fallen into.
I know two husbands, friends of mine who live in different towns, who don't drink coffee in the mornings. These two husbands are always up before their wives, who do drink coffee. These two marriage experts have learned how to make coffee the way that momma likes it. When their wives wake up and come into the kitchen, hubby has a hot cup of coffee ready. Both of those wives take that cup with appreciation. Both those men are marriage experts. Do something to serve your spouse every day! Make service the pattern of your marriage!
Don't be Mr (or Mrs) Whiny Pants.